It seemed hard to believe that Christmas was just a few days away but, as I sit in my ghost town of an office, it's becoming easier to reconcile with! So as I've been sitting here perusing everything on the internet, working hard, I started thinking about all the holiday things I love and all the things that make Christmas so "Christmasy."
#1. Miracle on 34th Street. (which I ironically still call "the new version" even though it came out 10 years ago. This is my favorite Christmas movie. I think this little girl is obnoxiously adorable.
#2. Egg Nog. Ever since "the great weight gain" of December, 2013 which I attribute to my five gallon consumption of egg nog in one month, I limit myself to one quart a year but man, this stuff is amazing.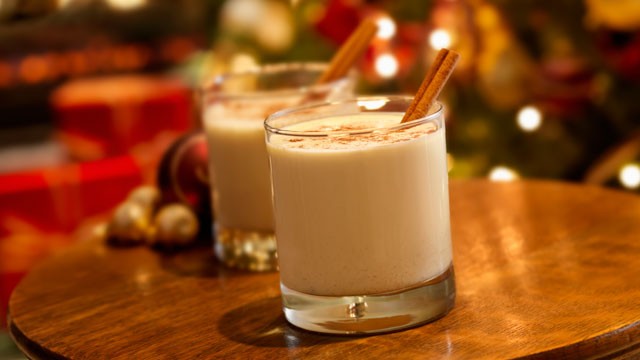 #3. Wrapping Presents. Given that I must have gone missing when God was handing out the crafty genes, I have a pretty mean wrapping game....as long as the objects I'm wrapping are perfectly square.
#4. Christmas Tree Lights. I'll be honest that I'm not the biggest fan of decorating the tree (is anyone?) but I absolutely love some Christmas tree lights. As soon as I wake up or get home I turn them on. They just add the coziest effect.
#
5. The Magnificat
. This is probably my favorite part of the Christmas Story. I can't imagine being in Mary's place - having something literally impossible happen to me and maintain such great faith.
#6. Christmas Cards.
I don't send out cards but I really appreciate people who do. It's so much fun to see pictures of everyone's families or hear from people you haven't in a year. My fridge is so happy right now.
#7. Christmas Jams.
We share a tradition with a lot of people in that we all wear Christmas jammies on Christmas Eve. I don't care what anyone says, slap some gingerbread men or candy canes on your stems and you are instantly 80% more in the Christmas Spirit.
#8. Those Tunes
...I adore some Christmas music....particularly all the songs by Jessica Simpson and Taylor Swift. And
this one
by Carrie Underwood that I am OBSESSED with.
What's your favorite part about Christmas?
XO, A