I've been thinking about the workplace lately. About what makes up a "good employee." What makes you move from "just an employee" to a "valuable company asset." At the risk of sounding harsh, I think it's good to expect a lot of people. It keeps us challenged. I want a lot to be expected of me. Sooo, I present my best workplace advice:
Spellcheck, spellcheck, spellcheck – I don't care if you're just sending an email internally to the person that sits next to you. Nothing makes you look more unprofessional than having extra words, grammar errors or misspellings in your email. Naturally, this becomes increasingly important when emailing clients.
Not a text from my dad..just a stock photo....like I would ever let my parents go to Disneyland without me!
Be on time – My dad used to always say that "being late is being a thief of someone else's time." In this case, it's the company's. Here's the thing, I get that circumstance come up…sometimes the car won't start….sometimes there's a huge accident on the highway…sometimes your baby spills all over themselves as you're walking out the door….those are life things. BUT, if being consistently late – even 5 minutes – is your "norm," you need to manage your time better. I bet if you had a $500 bill waiting on your desk for you only if you were on time….you'd be on time. I bet if you knew your CEO was going to be in office….you'd be on time.
Pause, Stop, Think – So many times it's easy to just shoot someone an email for something when you can't remember the answer. If it's anything you've discussed previously, search your email and files for the answer first.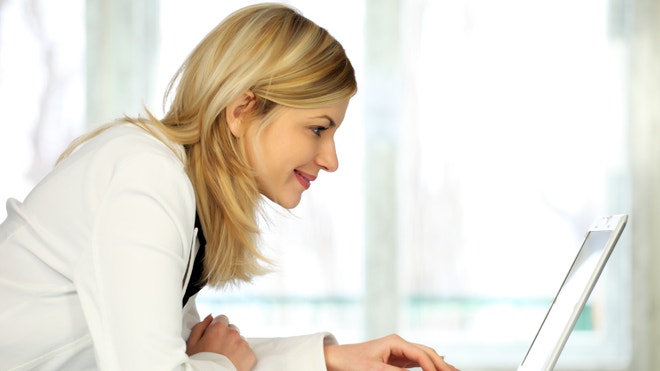 I mean, look how happy this woman is to find the answer for herself.
Go the extra mile – For me, this is my biggest workplace advice…because people rarely take initiative anymore. People tend to say 'no' to anything that falls outside of their specific job description. Why not be a "yes" person. I'm not saying be a doormat, I'm saying, be a solution solver. Before you say "no, this can't be done" or "no, I can't do that" see if there are ways you CAN do something……you might find that things you say "yes" to are great resume builders and gateways to higher positions within the company…even if they're not listed under your job description.
Learn to prioritize – Know what is time sensitive. Sometimes things have to be shifted around and the project you are sooo close to finshing has to be laid aside. Understand what the impacts will be to certain tasks if you delay them.
Always be friendly – Your bad mood, PMS or fight with your boyfriend is not your coworkers fault. Nothing is worse than having an unpredictable coworker. Will she be happy today? Or will she be a beast? Set aside your day-to-day personal issues when interacting with coworkers.
Learn to be a good leader – Being a leader is one thing. Sometimes we're just put in positions of authority. Being a "good" leader is entirely different. One of the biggest lessons I've learned is that being firm and expecting a lot is not "being mean." Giving people deadlines and deliverables and expecting a lot from others, is ok. But, when balanced with kindness and humility, that is what makes you a great leader. When you ask your reports "how can I help you"….that is what makes you a great leader. When you teach others how to do things so they can grow in their career and not just do things yourself because it's faster or makes you feel empowered…that is being a good leader.
Be an expert at your job – Learn your job inside and out. When coworkers or clients ask you questions about your products, services or processes, you should be able to address them without having to find the company pamphlet or brochure. Our minds have the capability to remember hundreds of song lyrics and tons of celebrity facts, surely we should be able to learn our business and know it by heart. This helps you become that resource that others can come to, knowing you'll have the answer or can direct them to where they can find it.
What's your best workplace advice?