Pairing up with my favorite
brunette
blonde
for a round of I Confess
I confess I'm naturally attracted to big-ego'd men. Scott Dissick, Joe Gorga, Spencer Pratt.....I think they're all HI-larious.
I confess....when people talk about Giuliana Rancic, my responses typically sound as if we're best friends
I confess I did a super huge big giant purge/clean two weeks ago and I expect my apartment to still be clean. #itssonot
I confess I might be addicted to the runner's high...there are worse things to be addicted to right?
I confess some woman at work dispensed soap SEVEN times in the bathroom the other day. I know because I counted. Seriously, how much soap do you need?
Speaking of soap, I confess I think automatic soap dispensers are overrated....aren't you going to wash your hands anyway? Why is there such a big need to not touch the push part?
I confess I don't understand why parents these days dress their kids in hats, long sleeves and pantsto go to the beach. Slather some sunscreen on the munchkins and relax!
I confess I would spend hours on my hair if I could make it look this effortlessly gorgeous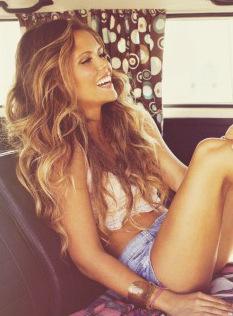 What do you confess.........?
ALSO, now accepting August sponsorships. Email me here for details.