Today marks the Grand Finale of our Summer Essentials Series and to celebrate, we are doing it BIG TIME. I bring you two of the blog world's most loved bloggers: Erica from
Young & Fabulous
and Shalyn from
So Shay
!
Awesomeness Overload!!
For real....these girls make me laugh no other, have the biggest hearts known to man and hot dang are they gorgeous!!
And they have some fabulous Summer Essentials tips for you.......
My favorite summer time activity in the whole wide world is boating. Hands down. I think I was 3 weeks old when I first got on a boat. My parents put this orange life jacket on me that made me look rediculous! But that's where my love for boating started.
I look forward to it every year. Cruising down to Cape Cod or Martha's Vineyard for a week with the family, or taking a sunset boat ride into Boston and getting off to eat dinner in the North End. Nothing better!
With summer, comes summer freakin essentials. And I have some. Here are just 5!!
1) A fabulous little beekeeny that goes perfect with that bronze glow everyone goes after during the summer. I picked up this number during the 70 degree week we had in March. I went bikini cah-razy.
2) A pair of sunglasses, prefarably polarized to keep those Rays out of your eyes! And speaking of Rays, my favorite pair would have to be my Ray Bans! Vintage meets modern-day!
3) A cute hat! In my opinion, I think Fedoras have it all. Style, comfort, and purpose! They keep the sun out of your eyes all while lookin' fresh to death!
4) A casual nautical summer dress. I don't know about you guys, but boating is one of my favorite summer activities...as mentioned! Boating around Boston Harbor is my happy place! And nothing screams summer than stepping off a boat in a cute, flirty dress.
5) A slush. Okay so I know this isn't really an essential, but it's an essential I must have every week, all summer long. There's nothing better than the fruitiness of a cold slushy on a hot summer day or night. Especially after a day at the beach! During the summer, you'll always find me with a slush!
This post has me itching for summer. Annnd it's just about warm enough to start sucking down slushies :-) Happy summer!
Hey muffin heads!


I'm Shalyn from So Shay and I am here to run with Ashley today. ;)
I freakin' love the MESS out of Ash...as I'm sure you all do because it's really hard NOT to want her body, legs, errr everything really. She's as sweet as they come and she makes my heart happy on a daily basis.
That said, we are both SOUTHERN girls, only I'm from the big ol' state of TEXAS. Can I get a YEE-FREAKIN-HAW!? TOooooootally kidding. That's so not my style.
You see, I live in Austin, and other than it being freakin' rad and weird,there is a TON to do here. We have lakes to go wakeboarding on, a coast with beautiful brown waters, and tons of rivers to go tubing on. I wakeboard a lot so most of my summers you will find me on the lake...or out and about on the ranch ridin' my horses. OKAY so I am joking about the horses part. (What IS it with that stereotype though, seriously :P!?) Ahhh. But in seriousness, it gets hotter than ALL get out here. I'm talkin' frizzy, POOFBALL hair y'all. Stinky Sticky pits and all. It's almost pointless to take a shower, because as soon as you set foot outside...you're already drenched in sweat. No joke. So, being that I've lived here pretty much my whole life...I've found a few summer must haves for all of you hot mamasitas! Especially for those of you who have to survive the hot, humid heat with me! :)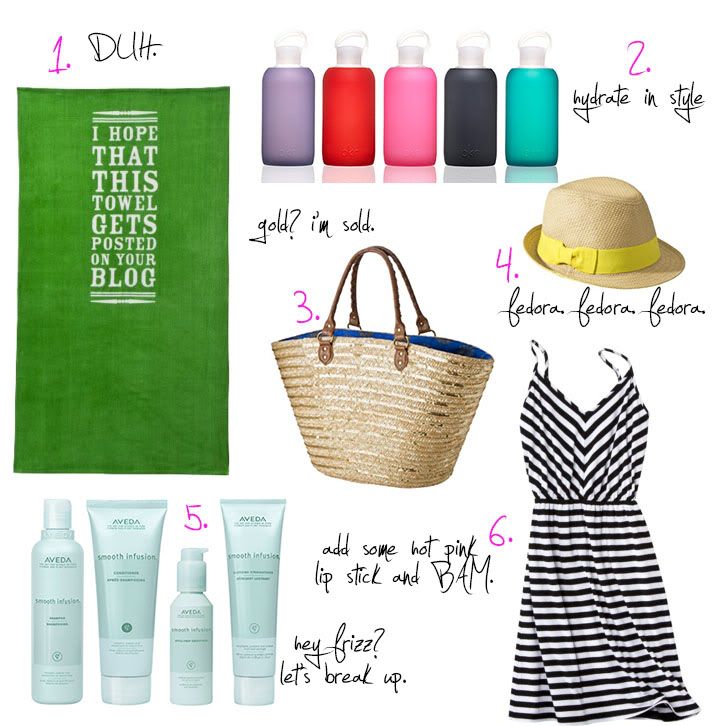 1. This towel is AWESOME am I right or am I RIGHT? I LOVE IT and it's ordered and on it's way to my hizzouse right now. It's ONLY 9.99 Y'ALL!
2. H20 baby. Hydrate. Hydrate. Hydrate. These water bottles are AWESOME. A littttttle pricey but SO worth the price. You can find them here.
3. I love gold everything...especially anything sparkly. This bag is perfect for a day on the water. Order here. You can thank me later. :)
4. FEDORASSSSSSSSSSSSSSS. I have like three. You should have atleast one. They rock. This one is from Target. :)
5.THIS LINE IS AMAZINGGGGGGGGGGG. Seriously the BEST. My hair is naturally wavy and thin so it will hop on the train to frizzville when it get's the chance...but then I used the Aveda Smooth Infusion and let's just say it's done WONDERS. Go. Get. It. Now. You will not be sorry. :)
6.I love onsies (rompers). I am addicted to them. You can wear them as an outfit, OR as a bathing suit. Stripes are also in right now too. Def. one of my preferred summer outfits.

Naturally, I don't always follow the rules and I snuck 6 in for y'all. Sorry Ash! ;)
-------
Ahh aren't they UGH-mazing!! And after this week I am more ready then evaaaa for summer!
Hope you lovelies have a wonderful long weekend!!
XO, A