LADIES!
I was watching E! news last night (totally part of my evening regiment) and they did this whole segment on weird celebrity mommy issues.
First up,
Mayim Bialik....star on the Big Bang Theory but better remembered as Blossom, advocates for "attachment parenting".....meaning she still breastfeeds her toddler children. She currently has a three-and-a-half year old using her chest as fountain.
She calls it "Fred-led weaning"....I call it robbing poor little Fred of juice boxes and silly straws.
Either way, betcha this chick s going to be shopping for 32-LONG bras in the very near future.
it gets weirder....
Alicia Silverstone chews up her kids food and then feeds it to him by mouth.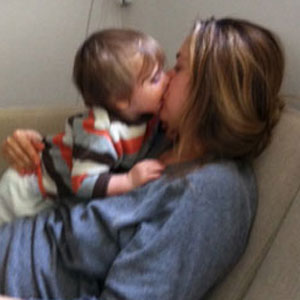 Does she know she's
not a bird
?!
And lastly...was Mad Men's January Jones who eats her placenta in pill form daily.
I mean.....come on.....spring for a bottle of Flinstones!!
So which do you think is the strangest?!
In other mommy news, Jessica Simpson has now been pregnant for 900 years. I'm fairly certain she's giving birth to a fully mobile and functioning tot.
You can tell pregnancy must be getting to her.....she was seen wearing this horrid ensem out
either that or she's really trying to make people forget the whole mom jeans incident.
It's ok though....this does not diminish my love for her in any way....obviously.