It was a year ago this week that I moved to Atlanta. A year ago that I started my job.
It had been just three weeks earlier that my world turned into a whirlwind. A whirlwind of giving my two
weeks
notice, finding a new place to live while in a whole other city, packing up my place in South Carolina, attending going away parties and trying to soak up all the family time I could before we were separated by a 4.5 hour drive on the world's most boring highway. My world changed completely,
with just one phone call
.
I guess somewhere in between a life-changer of a breakup and just generally growing up, I had lost belief in "dreams come true".....thought that "happily ever" after really did belong only at the end of storybooks and that answered prayer happened for other people but certainly not for me.
Three weeks earlier I had traveled during the tail end of a freak ice storm to Atlanta for an interview for a new position. As I rode up the elevator, I wasn't nervous.....interviews had become almost like a second nature. I remember so clearly getting off the elevator, staring through the ceiling-tall glass doors and the big cherry-wood desk behind them that anchored the lobby. I remember sitting in the roomy leather chairs watching CNN on the TVs and waiting for the man I'd only talked to over the phone to appear....wondering what he would ask me, if the experience I had would be enough this time.
I felt like the interview went well...the people, the work, the environment....all seemed amazing. They told me "they'd be in touch" but they had more interviews to cover next week.
I walked out of the building and willed myself not to get excited. It was too perfect and by the time I was halfway home, I had convinced myself completely I would never get this position.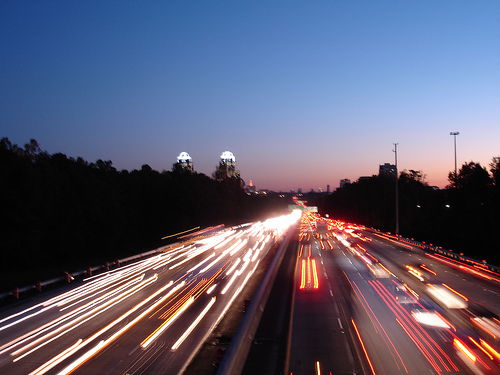 And just at that moment, my phone rang.
And it was HR
And they said they'd cancelled the other interviews
And the job was mine
And just like that, with one phone call, it all changed.
With one phone call I moved from a city with 12,000 people to one with a population of 420,000
With one phone call I moved from the only state I'd ever lived in
With one phone call, I regained hope
With one phone call, I started a new chapter of life
With one phone call, a lot of things became clearer
All the phone interviews and real interviews I traveled miles and miles for.
And the countless resumes I sent in that just went unanswered
The entire change of career path I had embarked on……more than a year of night school….with weekends spent shadowing the radiology department or studying anatomy and physics on the beach
But it was all for this. All for something better. Not just a new job. Not just a job in Atlanta. But the best job….for me anyway.
How much easier I thought it would have been if I had known the outcome. If I had known it would "be ok." That my "year wasted" as I liked to call it in classes wasn't a waste at all.
But that's not life I suppose. And I realized that sometimes reaching your dream involves a long road, confusing trails and a bumpy adventure to get there.
Moving In Weekend - February 6, 2011
I still have to remind myself of this sometimes when I lose faith in new dreams.
Today I am so thankful for that one phone call.
Whatever your dream is, don't give up!