I believe it was sometime last week that I said, I've been a little bored with obsessive running and have been branching out and trying some new workouts. So when my friend Shannon asked me if I wanted to go to a Blast 900 class with her, I was totally on board.
This class was like no other. Blast 900 stands for the 900 calories you supposedly burn during this class......do you know how much movement you have to make to burn 900 calories in an hour?!
The class was split in half with one half doing floor exercises and the other half on the treadmills....and then we would switch.
if that woman on the floor looks like she's crying.....she probably is
I'll spare you the gritty details of the whole workout and just share with you the highlights:
During one of the treadmill portions, the insructor said we if weren't mad, we probably weren't doing it right. At that moment i believe we were on an 18% incline and I wanted to slay him......so I'm fairly certain I was doing it perfectly.
I am always placed next to the non-sweaters in class. I have no idea why this always happens to me. Seriously, there I am looking like a man-beast with drippy elbows and drenched hair. I look over at the cute blonde next to me who has just one, single little droplet on her forhead and a super-feminine collarbone glimmer. But, I couldn't hate too much because I found out after class that the glamorous non-sweater was in fact Candace from
Southern Blonde Can
. Impromptu blate....Heck yeah!!
On another treamill stint, we were supposed to be sprinting it out at 9.0 speed. Since I was 99% sure my left lung was about to pop out of my chest, I knocked it down to 8.8....out of nowhere the instructor shows up on the back of my treadmill and says "bump that up to 9...only 30 seconds!" UUUGH - this is why I could never be a criminal...I am that person that aways gets caught. Plus I look like this when I lie.
During our last set, the most horrifying thing happened. I look in the mirror and see the little workout helper....with a camera....taking pictures FROM BEHIND! I don't know about you, but that is definitely my most attracitve angle. I'm crossing my fingers that one lands on the Facebook page.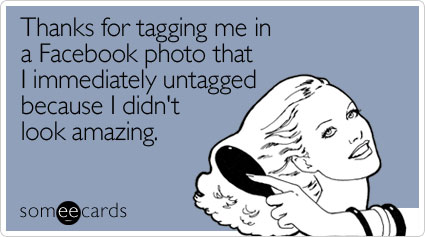 I felt like I'd swallowed a whole bottle of endorphins. I could no longer walk, but I was the happiest person in the world.
And I would totally do it all again.
Happy MondayLove-Munchies
XO, A