I'm joining
Raven's
tattoo-link-up par-tay today!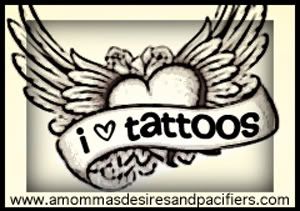 One of my favorite games to play is "If you had to get a tattoo"….you know, when you're sitting around with your girlfriends at dinner and you've discussed the latest happenings of the bachelor and those fabulous new shoes you just bought.....this is just where the conversation goes sometimes.....
Though I don't actually have a tattoo and don't know that I'd ever get one, I'm intrigued by them. And I love finding out what others would get….and where!
So, while I have yet to figure out the "what" part to my own question, I do have four answers to my "where."
INNER UPPER ARM
I'm currently obsessed with all things Jana Kramer in cluding her inner upper arm tat. Of course, with this tattoo comes a life of religious working out….because a tattoo on a flabby, swinging hangy-down-part is super not attractive. But I love the way it looks on 0% body fat arms!
WRIST
If I were to commit to a tattoo, this is probably where I'd do it. Initials, names and anniversary dates are a no-no (as Eva Longoria learned) and obviously I know my own name and birth date so what to put here is, as always, the big dilemma. But I love the look of something small here.
RIB CAGE
If I was going to go balls to the wall with a tatto, I would get something on my rib cage....I think it's crazy edgy AND if you're ever bored.....you have ample reading material on your person.
FINGER
I can't decide if this is so unique...or looks like you got bored at work and are actually talented enough to doodle on y our own fingers.....either way, I'm intrigued by the inconspicuosness of this location.
So play along…..if you HAD to get a tattoo…..where and what?!