.....did you really expect anything else from me today? No? Good....let's chat....
GIULIANA RANCIC
Giuliana ALWAYS makes my best-dressed list. I love her fashion....head-to-toe she always nails it. Her red Roberto Cavalli pre-carpet gown was so indy-glam. Loved it!
NINA DOBREY
Screen siren! From the color to the peeping decotolage and the mermaid cut with the elegant folds and pleating on the bottom, Nina's look was a steamy as her much-loved show. She was my pick for best-dressed.
SARAH HYLAND
She collaborated with Christian Siriano on this stunner. You know how I heart a one-shoulder dress and this was no exception - soft 1920s pleats and a jewel-encrusted drop-waist belt amped up the glam (and continued the red-on-the-red-carpet trend)
CAT DEELEY
GA-LAM. Her jewels were around 1.4 milli...and her look was just as money!
MINKA KELLY
Minka looked beautiful in her navy lace-sleeve Dior number but I was expecting so much more....I was expecting some break-up-sexy, skin-bearing number. While Minka could look glam in a Hefty bag....I think she could have amped up the sex appeal by many more volts.
JULIE BOWEN
Glitz and Glam all the way.....Love how Julie keeps her hair simple and jewelry to a minimum to showcase the simple yet elegant styling of this dress and toned arms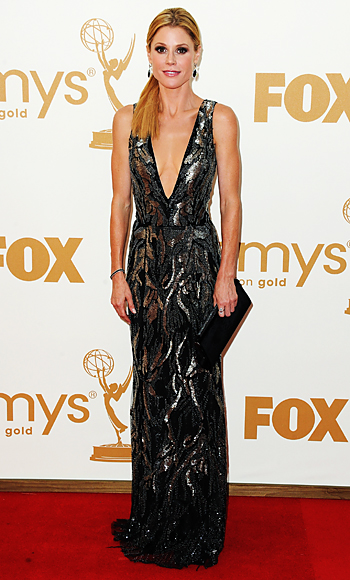 WILMER VALDERAMA
You know man-fashion is good when it gets mixed in with stunning gowns...but Wilmer has come a far way in fashion and taste since his Lindsey Lohan days...dying over the tight crop, skinny tie and fitted blazer.
JULIANNE HOUGH
She may be the star in the upcoming
Footloose
but there was nothing loose or carefree about Ms. Hough's red-carpet-wear....looks like her trist with Mr. Seascrest has put her in contact with some of the leading designers....while the folds of her Carolina Herrerra dress were unique, I miss the tossled waves and carefree style of the DWTS Hough we first came to know.
KATIE HOLMES
My second-best-dressed pick! LOVE the shade, top-knot and slimming gold belt....I would expect nothing less from her! She is forever chic!
Minus the crazy amount of red on the red carpet, there were no huge surprises but I loved the fashion showing as always. !
OK....Who did you LOVE?
Two days left to enter the My Memories Giveaway!