I got to thinking about May-December romances the other day. I was reading Life & Style magazine (where all my "deep thinking" usually starts) and there was an article about how Taylor Swift likes older men as she is newly-linked to the "I'm Yours" crooner, Jason Mraz. She's also been involved with Jake Gyllenahall…and the infamous John Mayer, all at least 10 years her senior.
For those of you wondering, a May-December Romance is defined as a relationship between people with a large age gap.
I started thinking back on all the famous, slightly quirky romances in H-wood over time.
Tom Cruise & Katie Holmes (she's 16 years younger than him)
Michael Douglas (56) & Catherine Zeta-Jones (31)
Brad & Angelina (Mr. Pitt was 12 years old when Baby Angie was hatched)
Donald Trump & Melanie Trump (He's 24 years older than her but I bet there were about 23 [million] reasons she married him)
Mariah Carey & Nick Cannon (separated by 12 years)
Harrison Ford & Calista Flockhart (separated by 22 years)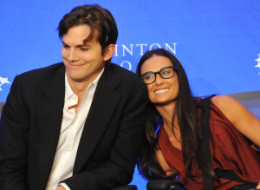 Ashton & Demi (he's 16 years younger) - probably the most famous May-December romance
Jay-Z & Beyonce (He's 12 years her senior)

Hugh Hefner (85) & Crystal Harris (23) (This is NOT a May-December romance....this is what you call illegal.)
What are your thoughts on May-December romances?
Do they leave you scratching your head and shuddering at the thought or do you find them mysterious and exciting?
Have you ever been in a May-December romance?