Is it just me or is Facebook getting more dramatic? I have noticed more and more statuses on my mini-feed lately from the female race that either not-so-subtly allude to some drama, pull the "poor-me" card or post some open-ended status that makes everyone ask "what's going on?!" or "OMG are you ok?"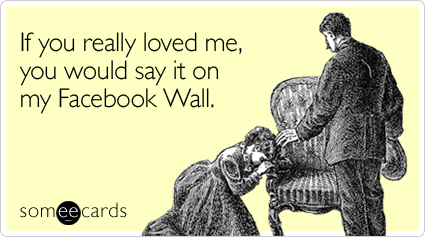 When I was in the throes of my dramatic years (you know, the kind when you have a fight and you run out of the room slamming the door….hoping he'll come chasing after you…..and then getting even MORE pissed off when he totally ignores your tantrum…yeah, those days), I had a boyfriend tell me
"

Don't cause a scene

."
And it used to make me SO.MAD.
But now, I get it. And I hear myself saying it in my own head…saying it as I passed the young sorority girl and citadel cadet having it out on the streets of Charleston a few weekends ago.
Or the wife heavily huffing past all the tables in a restaurant I was at last night as her clearly embarrassed other half strolled a good 10 feet behind her.

Sorry guy, we all know you're with crazy.
Or the overly dramatic girls on facebook who post statuses that 99% of your friends know is referring to your boyfriend. (FYI-it's not going to make him regret his actions, but it sure might make him look for the first ticket out of crazy town!)
I'm not talking about being a silent martyr or placate-er. Everyone has arguments. And, let's be honest, we all have our overly-dramatic moments. Take for instance the time I put dish soap instead of detergent in my dishwasher and flooded my kitchen with bubbles and I called my mom bawling that "everything was wrong." It wasn't. I just gave my floor a bubble bath. ;)
But really girls, let's take our dirty laundry, remove it from the corner of Facebook and Twitter….and figure that crap out at home!